It's halfway through May which means I am one month away from being at camp for the summer!!
To curb my excitement, I've curated a list of all the books I want be read before I ship myself of to my cabin in the woods for the summer, but let's be real I'll be lucky if I even get to read one of them, let alone all.
I've set this post up with the book, a simplified summary from Goodreads, and a short note about the book. Cover photos are linked to their Goodreads page!
The Firelight Girls by Kaya McLaren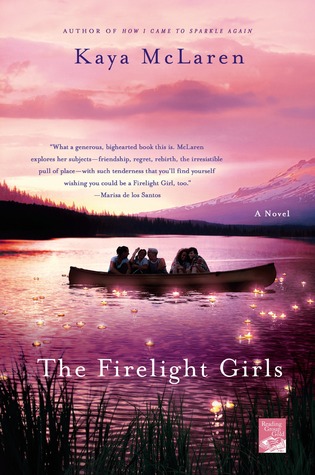 The summers you spend at summer camp are indelibly etched on your heart. But what happens when the camp you love is about to close? This is the question that plagues Ethel, the seventy-year-old former camp director as she now faces the impending closure of the camp on Lake Wenatchee that she called home. It's also a question that inspires change in forty-year-old Shannon, who is now directionless after watching her career implode. And there's Laura, who has lost all intimacy with her husband. Finally, Ruby, who betrayed Ethel years ago and hasn't spoken to her since, hopes this will be her chance to make amends. When the four women learn that a homeless teen has been hiding at camp, they realize camp is something much more immediate for all: survival.
I picked this up in the bargain section of Barnes and Noble and I've been gearing up to read it ever since. From the summary I can tell the authors knows and understands summer camp, meaning this will be filled with lots of squeal-inducing moments.
The Lost Summer by Kathryn William
For the past nine years, Helena Waite has been returning to summer camp at Southpoint. Every year the camp and its familiar routines, landmarks, and people have welcomed her back like a long-lost family member. This year she is returning not as a camper, but as a counselor, while her best friend, Katie Bell remains behind. All too quickly, Helena discovers that the innocent world of campfires, singalongs, and field days have been pushed aside for late night pranks on the boys' camp, skinny dipping in the lake, and stolen kisses in the hayloft. As she struggles to define herself in this new world, Helena begins to lose sight of what made camp special and the friendships that have sustained her for so many years. 
I'm both excited and hesitant to read this book because it sounds so different from my own camp experience that I'm anticipating myself clashing with this book. But I'm so interested in camper-to-counselor relationships and seeing how the author decides to play with that!
Nothing Happened by Molly Booth
This modern-day retelling of Shakespeare's Much Ado About Nothing takes place at the idyllic Camp Dogberry, where sisters Bee and Hana Leonato have grown up. This year, the camp drama isn't just on the improv stage. Bee and longtime counselor Ben have a will-they-or-won't-they romance that's complicated by events that happened—or didn't happen—last summer. Meanwhile, Hana is falling hard for the kind but insecure Claudia, putting them both in the crosshairs of resident troublemaker John, who spreads a vicious rumor that could tear them apart.
This book just came out and I have been eyeing it for months!!!! I cannot wait to run to the store in June (already reached my book quota for the month!) and binge it in one sitting.
Camp Rolling Hills: Freefall by Stacy Davidowitz
Wiener is especially excited to be back at camp, because his little brother Max is finally coming to camp. Wiener can't wait to show Max the ropes but there's a snag: as the smallest and youngest in his cabin, Wiener gets teased a lot, and it doesn't take Max long to realize Wiener might not be the Camp Legend he made himself out to be. Meanwhile, inspired by a big change at home, Missi is determined this summer to be 100 percent true to herself—no more pretending to like celebrity teens just to fit in! But when she catches the eye of a suave exchange student, she starts to wonder whether she was better off playing it cool.
This is the fourth (and newest) installment of the middle-grade series Camp Rolling Hills that I've been obsessing over for the past year. The author describes camp in ways that only camp people will relate to. This whole series is like one big inside joke and I love it.
Lumberjanes by Noelle Stevenson, Grace Ellis, Shannon Watters, Brooke A. Allen
Jo, April, Mal, Molly and Ripley are five best pals determined to have an awesome summer together…and they're not gonna let any insane quest or an array of supernatural critters get in their way! Not only is it the second title launching in our new BOOM! Box imprint but Lumberjanes is one of those punk rock, love-everything-about-it stories that appeals to fans of basically all excellent things.
I read the first comic of this a while ago and freaking loved it so I went out and bought the first three books and for some insane reason they've been just sitting on my bookshelf???? Idk but I need to read this before camp so I can pass it along to all my friends.
Do you have any summer camp book recommendations? I'm trying to fill my list up before I leave!