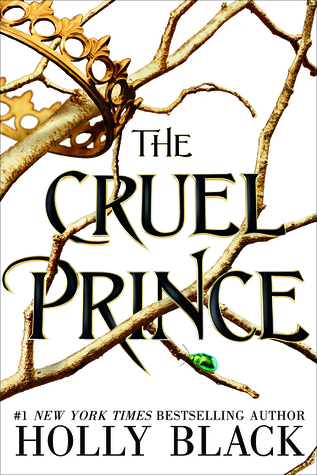 Page Count: 370 pages
Publication Date: Jan 2, 2018
Publisher: Little, Brown Books for Young Readers
Age Range: Young Adult
Source: Purchased
Goodreads: The Cruel Prince
cw: murder, physical and sexual abuse, suicide
I really forced myself to just to power through this one but dang am I glad I did.
When I was younger, my family would spend our entire summer at the town pool. My brothers would always rush right in, but I'd camp out in my mother's favorite spot by the picnic tables in the shade. I'd put on my sunscreen, maybe read a little bit of my book (one summer I outlined my entire 40 chapter fanfiction in one afternoon at the pool) and then was I was ready I would get in line at the diving board and dive in literally head first.
That's literally how I start reading hyped books.
I'm slow you guys. I don't jump on the bandwagon right away. But eventually, when I get there, I'm obsessed.
(I should just listen to everyone but I'm stubborn and I don't like to~)
I feel like at this point literally everyone has read The Cruel Prince so I'm going to gloss over this summary because 1) I'm lazy and 2) would you even read it???
This was my first fae-inspired fantasy I've read as an adult. I just generally don't like fae fantasy (it's just really hard to wrap my head around) so like everytime the word "Faeryland" was mentioned I literally chuckled. I couldn't help it, it's just sounds so juvenile and glittery!!!
Shockingly (for me) The Cruel Prince was literally anything but juvenille and glittery. I was very impressed by the clear world-building that Holly Black created; I read some reviews that said they were underwhelmed, but for me who struggles with believable fantasy worlds I thought there was just enough information to give me a clear picture but still leave me to connect the dots.
Jude, our protagonist, is a human living in a faery world which gave Holly Black a great excuse to use Jude to describe her life because she was also an outsider like us reading it. I loved how Jude was learning about different botanical elements at the same pace we were; I think learning about different plants really provided me with some tangible world-building context. Not only did it provide a physical description that I could just drop into my mind and develop a clearer sense of place, but it also gave me some deeper connections with the world as well.
I really enjoyed Holly Black's writing in general. This was the first book of her's I read, and she's just generally a smart writer. You could tell this was carefully constructed. There was just enough flowery and quotable language but not enough to be pretentious. The plot arc was really well done; the pacing is very different from other popular YA fantasy that I've read. It starts off with a really intense and gripping hook right from the prologue where we see Jude's parents killed in front of her and her adoptive father takes her and her two sisters with him to Faeryland, where they live through the present events in the novel. The story ends with a classic climax, then the pace dips a little slower, and ultimately ends on a cliff-hanger.
The Cruel Prince is definitely a brutal and challenging read. Jude is the victim of a lot of relentless bullying from her classmates, to the point where I don't feel comfortable calling it mere bullying because it's very abusive and manipulative. Often times the obstacles that Jude encountered on her quest to prove herself as a human in a world where she really doesn't belong where extremely uncomfortable to read. I'm sure that was completely intentional, but I would've liked just some type of pushback or consequences for many of the character's actions.
I'm a very character-driven reader, and I loved the complexity of the characters. I don't think I've connected with a YA protagonist like the way I connected with Jude in a very long time. She is so powerful and sneaky and determined and she is insanely easy to root for. Her relationships with the characters she encounters are in-depth and complicated.
My favorite relationship to read about was Jude's connection with Madoc, her father-figure. It was so interesting to read about Jude's hesitations towards her parents' murderer, while also feeling a sense of loyalty towards him as well. I'm very eager to see how this develops in the sequel.
Similar to Jude's relationship with Madoc, I love the dynamic between Jude and Cardan. The animosity between the two characters was filled with tension but Cardan's character development was impressive.
My favorite character was Vivienne, Jude's older sister, and she did not get enough page time!!!! She was definitely the most intriguing character in the story. I really enjoyed the dynamic between Vivienne, Jude, and Taryn, Jude's twin sister. It was interesting to see how the three of them grew up with completely different desires in Faeryland and how their loyalty to each other changed throughout the novel.
Going into this book, the only thing I knew about it was that there was an obsessive hate-to-love trope that people were going bananas over. While I'm definitely on board with this ship, I was surprised by how this didn't read like a romance novel. There was definitely a lot of romantic subplots, but it was never overwhelming or heavy handed and I really appreciated that.
Because I was expecting this to be a more romantic book, I was shocked to see that many of the themes were really strong survival messages of strength and perserverance.
I ended up being pleasantly surprised by how much I enjoyed this. I really was not expecting this to live up to the hype (honestly I was tentatively expecting to not like this so when I got about 100 pages in and decided that I didn't hate it I was honestly shocked).
There were a few things keeping this from a 5 star rating however.
First, there were many scenes where I just felt viscerally uncomfortable by the amount of abuse Jude was receiving from her peers. I do believe that was intentional (honestly, like "cruel" is literally in the title so you can't say there isn't any warning) but I wish there had been a clear acknowledgement that it was wrong and inappropriate. Maybe it will be addressed in later books as the characters grow and change.
I also felt like Jude was coming into a lot of adversity throughout the book (which I loved) but it was kind of unsettling for me to see Jude painted as a minority in this world without there being much "real world" diversity in the book. Besides Vivienne being bisexual, I really can't recall any other diverse characters being mentioned.
Aside from those, I really did enjoy this book and I was so happy with the way it ended and I'm surprisingly very eager to check out The Wicked King (which comes out today!!).
I'm assuming that many other people have read this, so what did you think?? What are your plans for reading the sequel?