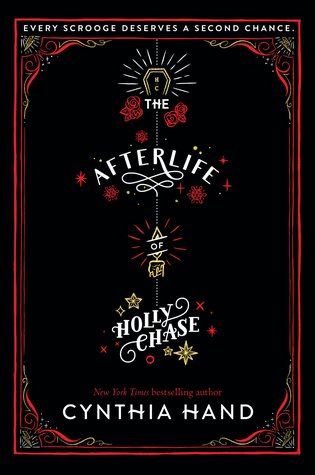 Page Count: 400 pages
Publication Date: Oct 24, 2017
Publisher: HarperTeen
Age Range: Young Adult
Source: Library
Goodreads: The Afterlife of Holly Chase

I forced myself to read a Charles Dickens book before reading this (vom dot com). Was it worth it? Eh…
I really only like reading cheeseball romantic comedies in the summer when I'm lounging at the beach (which is like maybe once a year, sadly) or in the two week period right before Christmas.
The Afterlife of Holly Chase is honestly the perfect book to read right before the winter holidays. It's very festive and heartwarming and just a really fun book.
Cynthia Hand wrote a retelling of Dickens's A Christmas Carol which is a paranormal story disguised as a contemporary. It follows Holly Chase as she works for a company called Project Scrooge which employs staff to reenact A Christmas Carol on Christmas Eve every year, trying to guarantee a change of heart for a different "Scrooge" every year. Holly has a lot of a experience with this because she was a failed Scrooge; instead of seeing the errors of her selfishness she ends up dying, just as she is warned.
Once dead, she ends up working as the Ghost of Christmas Past for Project Scrooge.
My favorite part of this book was the way Cynthia Hand incorporated Charles Dickens into this company. I thought it was incredibly creative and she probably had so much fun connecting her own characters to different aspect of A Christmas Carol! This takes place in New York City and there are a lot of common landmarks mentioned which gives the novel a really contemporary foundation. The book itself doesn't read like a paranormal or a fantasy at all, aside for some ghostly and magical elements.
I felt like the writing was pretty basic. There is honestly nothing that stuck out to me in terms of language or plot structure that was neither incredible nor difficult to read. This was a very plot-driven novel that follows A Christmas Carol storyline very closely, so I almost feel like the writing didn't necessarily mind that the writing was simplistic.
Holly, as a former Scrooge, is clearly written to be unlikeable. I'm honestly very surprised that I didn't dislike her as much as I thought. Ultimately like, you have to know she's going to be obnoxious straight from the get go because of the format of the story so maybe that's why I had so much patience with her.
Honestly I kind of had a little bit of a soft spot for her. I definitely was rooting for her to succeed and I loved the relationships she started developing with Stephanie, her assistant, and Ethan, her crush and current Scrooge.
Holly and Ethan's budding relationship was really the driving force behind the novel as Holly starts developing feelings for Ethan while picking his brain for past memories to use when her company stages their annual Christmas Eve walk through time. Although both characters were colored unlikeable multiple times through the novel, their relationship was intentionally written in a way that still made you care about.
However, I really felt like the secondary characters were really under-developed. I would get very confused between many of the male characters, and honestly I finished this just three days ago and I already have forgotten most of their names and any significant details. I enjoyed how many of their names were callbacks to Dickens's characters, but I would've liked some more development between them.
Ultimately I ended up giving this a 3.5 star rating (I always round down). I enjoyed this and would really only recommend this during the holiday season. If you're sad that Christmas is over and not ready to let go, I would definitely recommend it!
I'm honestly a little surprised that so many people gave this incredibly high ratings. I honestly didn't feel like it was really that special; I thought the plot was incredibly unique but the characters were very ordinary YA characters. Maybe I just went into this with high expectations.
I also have very mixed feelings about the ending. I liked some aspects of it (including that I didn't see it coming) but looking back it feels like a little bit of a cop out. It's definitely not a traditional ending or possibly the ending many readers were hoping for, but it almost felt like having one last piece left of the puzzle but it just does flesh perfectly with the surrounding pieces.
Have you read this? If you liked it, what am I missing? This has such a high rating on Goodreads and I just can't figure it out!